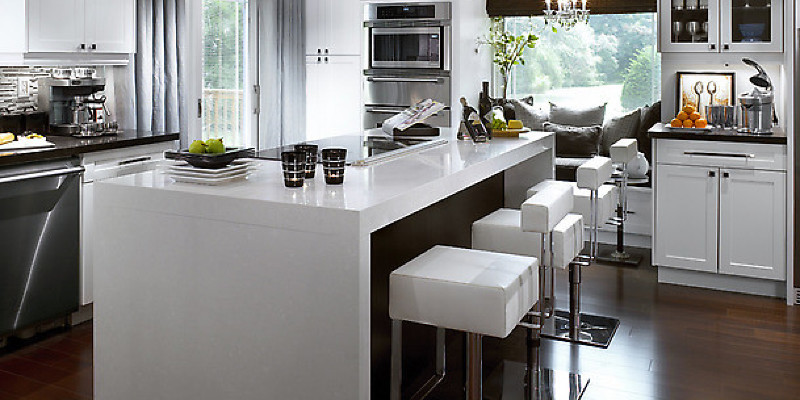 Pearls of Wisdom In a Real-Life Kitchen Remodel
I recently remodeled our kitchen and dining room in 2011 (you can see the whole house here). Recently, a friend who is about to embark on her remodel asked me what I wish I'd done differently or what I need I'd thought of before making certain design decisions.
I'm mostly thrilled with our remodel. There are perhaps a few things I would change, but for the most part, I got just what I needed: a slick, neutral kitchen with a lot of counter and cupboard space. It's not Architectural Digest material, but it is real life, and it definitely works for me.
Advice I can provide:
1. Think a lot about the stuff you have. Are you a baker with lots of cake pans and cookie sheets? Have you got a lot of tall items, such as juicers, blenders and mixers? How many wineglasses have you got? The configuration of your cabinets and drawers should be designed with all this in your mind. Make lists of everything you have and go from there.
2. You most likely don't need a fancy restaurant-style $6,000 stove, even though they are pretty.
3. Think about the light you need and then raise it by 50 percent. Our contractor talked us out of extra bud lights, and it is my biggest complaint about the new kitchen. Light that baby up just like a soccer stadium.
4. There is almost nothing as easy as really large, deep drawers for pots, pans and other large items.
5. A tile backsplash is not essential, but if you can swing it, it sure does make a huge difference. Tile is the jewelry of the kitchen.
6. There is no such thing as a perfectly indestructible countertop. I love our white Caesarstone — it does not stain, it does not burn, and it does not require any special care, but it's a couple of tiny chips inside already.
Those are my pearls of wisdom. If you have gone through a kitchen remodel, what are yours? Don't hesitate to share before and after photos. We can't get enough of these transformations.
BEFORE: My miniature, cheap stove was trapped between cupboards, and there was no counter area.
AFTER: Counter distance near the stove; I don't know how I ever lived without it. In addition, I love the dual-purpose vent and microwave — great for a small space. We moved for the lip of counter to the wall to get efficacy and ease of cleaning. The tile is just for pretty.
BEFORE: We maintained our dishes on open shelves. It was easy to catch them, but the ones we used less frequently obtained dusty. Plus, they seemed chaotic.
AFTER: I have open shelves, but now they're for cookbooks and dry products. Our dishes and glassware are in closets, where they stay nice and clean.
BEFORE: We got rid of both of these walls, opening the kitchen up to the living room.
AFTER: The older wall could have gone though the middle of the new table. Having an open kitchen has relieved me of ever feeling trapped at the kitchen while my family or guests hang out without me.
AFTER: The whole, spacious shebang.
What I love: Vertical pan stands at a skinny cupboard. All apartment things go in here, and it saves a ton of space and hunting around.
What I could change: We have awkward corner cupboards, and we opted for sturdy wooden lazy Susans in both. They work well for baking supplies and canned products, but if I could do over these regions, I think I'd opt for pullout drawers at one corner.
My pullout spice rack is fine, but it was really created for bottles of oil and vinegar and so on. As it is too far off from the stove and I have found I don't like reaching down for these things, I keep the bottles at an upper cupboard right next to the stove, along with the spices I use frequently. So now I have this whole rack specializing in spices that I use only occasionally. I call it my cardamom cupboard.
Tell us : What did you learn from your own kitchen remodel? We'd love to see your before and after photos!